Photo of the Week, 64: Redbirds Crowned National Champs in 1969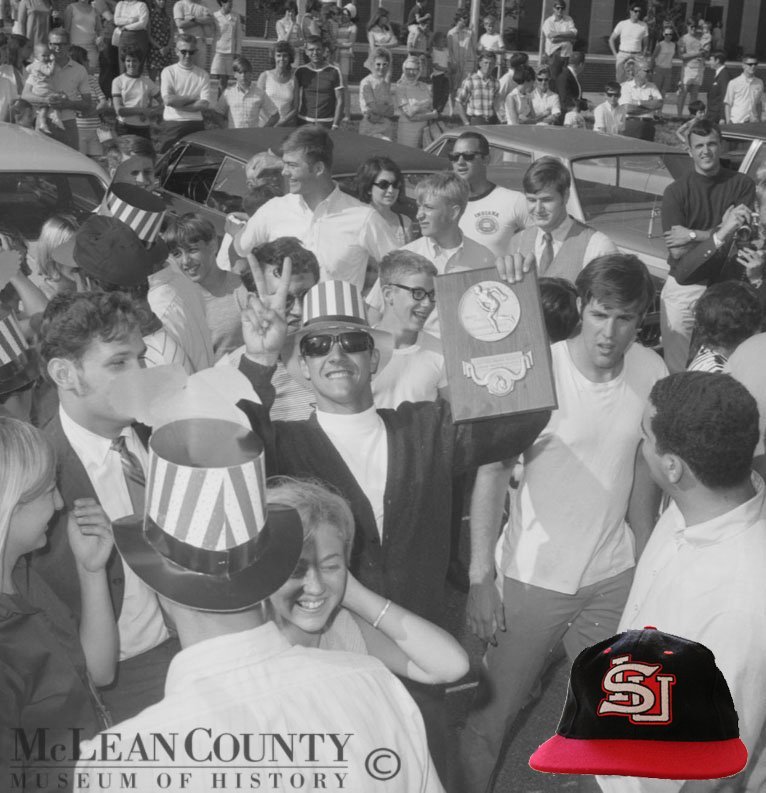 Get Your Replica Cap Today!

Illinois State University's baseball team captured the NCAA College Division (now Division II) national championship on June 6, 1969, defeating Southwest Missouri State College (now Missouri State University). The Illinois State squad, led by Coach Dufy Bass, returned from Springfield, MO the following day, and the players rode a fire truck for a victory parade through Bloomington-Normal.

Seen here is ISU pitcher "Buzz" Capra holding the NCAA championship plaque and giving the "victory" sign. Lee William "Buzz" Capra went on to enjoy a solid Major League Baseball career, pitching for the New York Mets and Atlanta Braves from 1971 to 1977. This Saturday, April 26, at 12 noon, members of the only national championship team in Illinois State University history will gather at Duffy Bass Field on the ISU campus to stage a long-overdue reunion. And then, at 2:00 p.m., the current crop of Redbirds takes the field against the Salukis of Southern Illinois University.

Since last fall, the McLean County Museum of History has been selling a replica, limited-edition baseball hat worn by the 1969 champs. Created by Seattle-based Ebbets Field Flannels Inc., the $40 hats can be purchased at the Museum's "On the Square" gift shop. If you're not able to visit the Museum, you can place a long-distance order for one of these surefire collectibles. Call 309-827-0428 or email Museum Director of Development Beth Whisman at bwhisman@mchistory.org for more information.