Photo of the Week, 5: Beich Employees Packing Whiz Bars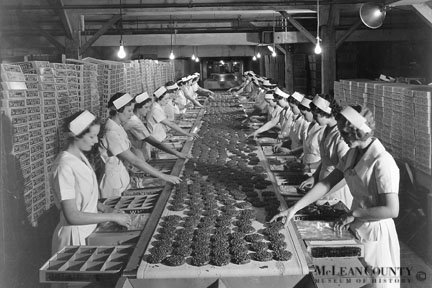 This undated photograph shows Paul F. Beich Candy Co. employees packing Whiz Bars, a marshmallow, chocolate and peanut concoction that was the local confectioner's best seller. Beich established a Bloomington-based candy company under his name in 1892.

This photograph shows the interior of the 170,000-square foot factory at 1302 W. Grove St. on Bloomington's west side. In 1973, Beich relocated its manufacturing operations to a new factory on the city's far southwest side. The company stayed in the Beich family until 1984 when it was sold to the global food giant Nestle.

The W. Grove St. building stood empty for years and then was lost to a spectacular blaze in May 2005. Image courtesy of the McLean County Museum of History.