Downtown Bloomington Early 1920s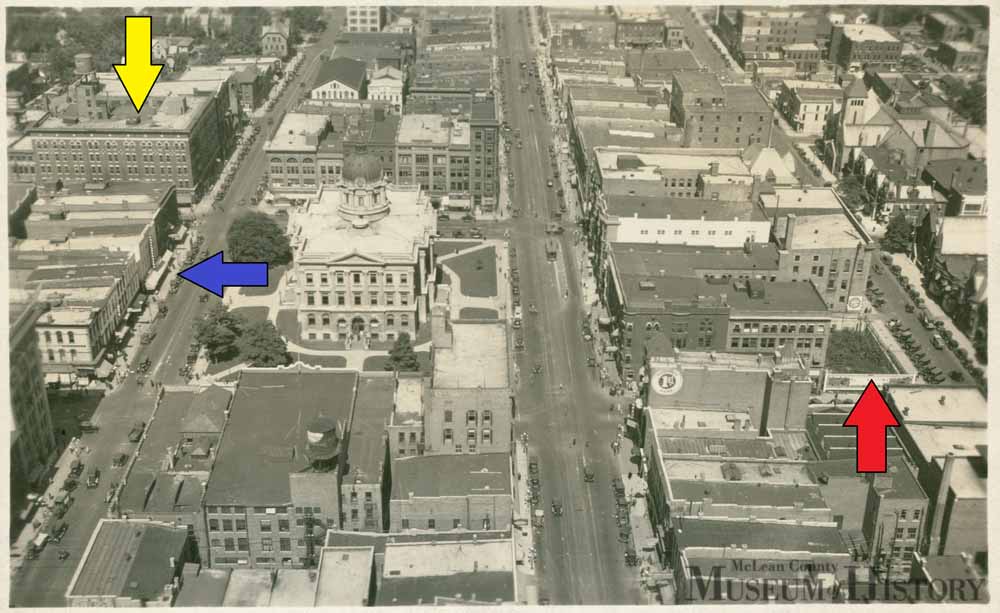 This aerial view is undated but several clues helped us assign an approximate date.
Note the vacant lot at the northwest corner of East and Washington streets indicated by the red arrow. This was the former site of the "old" Castle Theater, which was open from 1904 to the mid-1910s (the "new" Castle, located one block further east on Washington Street, opened in 1916, and today serves as a live music venue). The old Castle was then razed and the lot remained vacant until construction began on the first phase of the State Farm Insurance Co. high-rise, which was finished in 1929 (the office building would eventually include three more additions, completed in 1935, 1940, and 1945 respectively).
Note as well the blue arrow pointing to Ensenberger's, a once-popular furniture store on the west side of the Courthouse Square. A seven-story English Gothic-style addition that would go up at this site wasn't completed until early 1926, so we know this photo was taken before that time. Ensenberger's closed in the 1990s and has since been converted into condominiums. Last, see the yellow arrow pointing at the Illinois Hotel (now the Illinois House). A sixth floor and copper French Mansard roof were added in 1925. Since there are no indications of such work being done, we can safely assume this photograph is pre-1925.