Illinois Bicentennial flag raising kicks off year of programs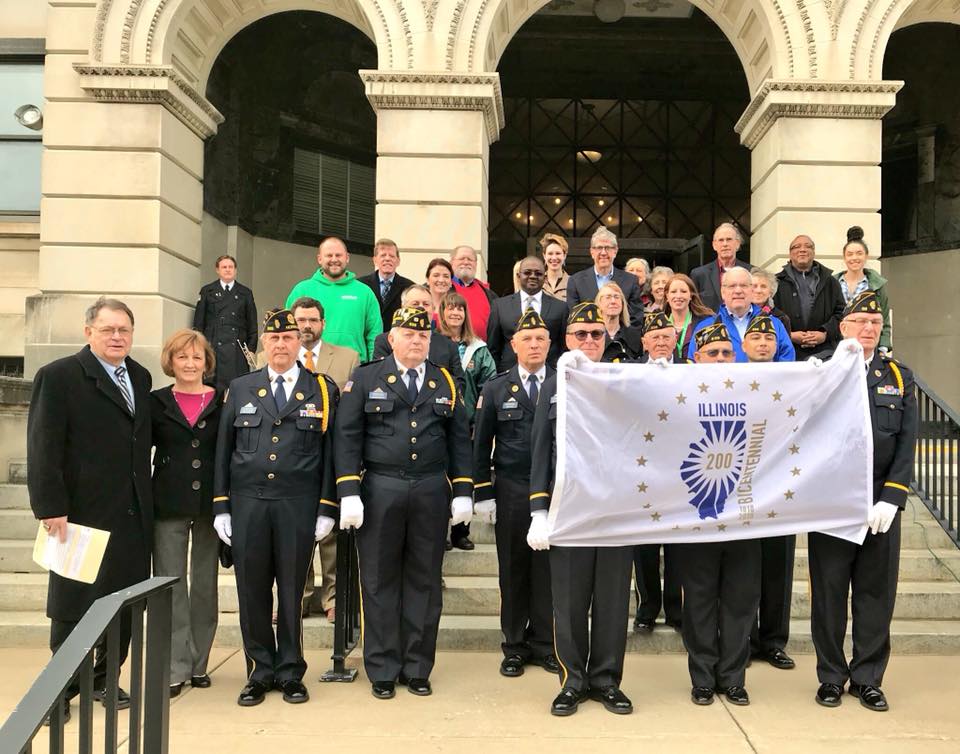 The State of Illinois will celebrate its 200th birthday on Dec. 3, 2018. To help kick off a yearlong celebration of the Illinois Bicentennial, communities across the state hosted a simultaneous Illinois Bicentennial Flag Raising Ceremony at noon on Monday, Dec. 4, 2017.
The County of McLean hosted a flag raising ceremony outside of the Old Courthouse which now houses the McLean County Museum of History in historic downtown Bloomington. The public and media were invited to attend. County Board Chairman John McIntyre read a special proclamation and members of the Norma and Bloomington American Legion posts raised the official flag to mark a yearlong tribute to the people, places, and things that are being BORN, BUILT & GROWN in Illinois every single day. This theme has been designated by Governor Bruce Rauner's 51-member Illinois Bicentennial Commission.
Local Bicentennial events in 2018
The 200th celebration will continue with programs and events throughout the state, ending with the Bicentennial Birthday Party on Dec. 3, 2018 at the United Center in Chicago. Locally, the McLean County Museum of History will offer free programs beginning in early 2018:
Saturday, Jan. 27 at 2:30 p.m. - Dr. Debra Reid, Curator of Agriculture and the Environment at The Henry Ford Museum of American Innovation, will discuss how farmers have historically kept farms operational in a competitive business environment.
Saturday, Feb. 24 at 1 p.m. Dr. G. Logan Miller, Assistant Professor of Anthropology at Illinois State University, will present new archaeological findings at the Noble-Wieting Site that represents the oldest known evidence of people in what is today McLean County.
Watch our calendar for more Bicentennial programs including the 2018 Evergreen Cemetery Walk which will use a Bicentennial theme.
The Governor is encouraging communities and organizations to hold their own Bicentennial events all year. You can learn more at Illinois200.com.